The Ocean Eco 60 is an innovation packed solar assisted electric long-range cruiser that will perfectly suit customers who like to cruise and explore while yachting.
Designed with luxury, safety and cruising comfort in mind, it is an example of the latest technological developments in the field of self-sufficient yachts surpassing its competition by years.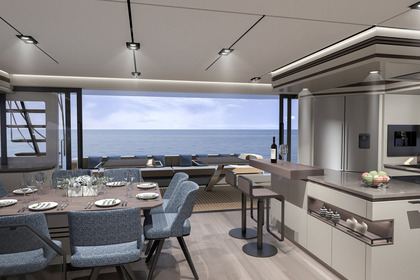 This is a customisable yacht with the lower deck layout so it can fit your needs and desires perfectly. With two spacious double cabins plus one single for the crew this is a fantastic well rounded yacht.
This is a truly special yacht with all the latest technology and facilities for you, your friends and family to enjoy. Please let us know if we can help you with further information in any way.
Below are some other yachts from our portfolio that you may be interested in...