The new Ocean Eco 90 breaks new ground in yacht design and cruising efficiency. It is one of the finest examples of modern day superyacht building.
The main deck features a lounge, separate dining area and full Galley (optional) , while on the upper deck you'll find the sky lounge, cocktail bar and a jacuzzi. As impressive out while cruising as it is in the harbour, this icon of design is unlike any other.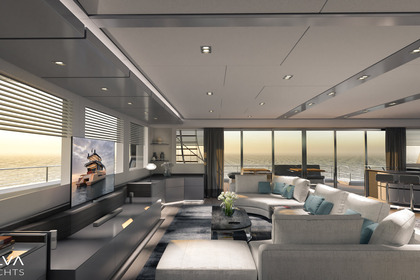 The Ocean Eco 90 tries to renounce old yachting clichés and create a new look and feel for the new generation of E-Yachting. Modern shapes, a clear and futuristic feel but classic colours and materials create a well-rounded exterior design for forward thinking clients.
Some of the key aspects of this design include a great open outdoor a large open flybridge and the large and well-lit saloon.
Below are some other yachts from our portfolio that you may be interested in...