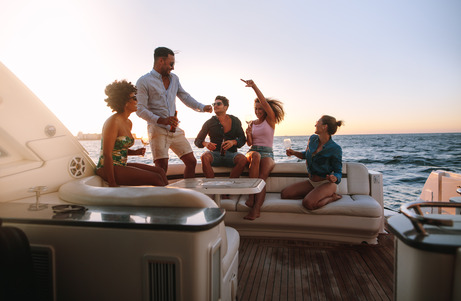 If you want the very best in life then being able to enjoy your holiday on board a state of the art yacht is exactly what you're looking for. Our Mallorca yacht charters are perfect for you, your family or friends to enjoy your vacation on!
Elegant Yacht Charter have a fantastic portfolio of boat charters including yachts, catamarans and other vessels that are sure to fit your needs and requirements.
We can supply a Captain, crew and any other facilities you need to make your stay on one of our yachts an amazing experience. Each yacht has a variety of facilities and toys available to make sure your time at sea is truly memorable. Check out our range of available boats below.
Yacht Charter Frequently Asked Questions
So you have questions about chartering a yacht? Don't worry you're not the first! We get asked many different questions by our clients so we thought the best thing to do was put all our FAQs in an easy readable list for you to look through.
Of course, if your question isn't answered below then our team can be sure to help. Just drop us a line and we'll help and advise you no matter what your query may be.
How are the charter rates calculated?
Rates are calculated based on the daily rate of the boat your interested in. Although we provide daily rates some of our yachts may enforce a minimum hire period e.g 1 week. Rates vary depending on the time of year you want to charter the yacht.
What is a bareboat charter?
Put simply, it's the charter of a yacht that you will sail yourself and without any crew. You'll need to provide certification and evidence of experience that you're qualified to sail a yacht such as you want to charter.
What are the payment terms for a charter?
You are required to pay a deposit of 50% of the total charter fee by bank transfer on agreement to charter. The remaining 50%, plus any taxes and agreed additional charges are payable at least one month before the charter is due to start.
Do all yachts accept children on board?
Yes most of our yachts are child friendly but there may be a minimum age. You also may be required to organise a nanny/childminder as the crew does not provide those services.
Can I smoke on board the yacht?
Usually the answer is that smoking is not allowed inside the yacht. That being said it is best to check with us first as the yacht you would like to charter may have its own specific rules. Some of our yachts have designated areas for smoking.
How much should I tip the crew?
If you're happy with your service then it is normal to tip the crew around 10% of your charter fee but that is obviously at your discretion. The best person to talk to about this is the Captain as he has oversight of what everyone is doing on the yacht and can make sure everyone is taken care of.
Is VAT applicable on the charter fee?
The fees shown on our website include VAT unless the notes state otherwise. The equivalent of VAT in Spanish waters is called IVA.
What is included within the charter rate?
Our charter rates are based on MYBA Terms. Basically the yacht will be supplied in full working order, insured and ready to sail. You're responsible for operating expenses such as fuel, water, electricity and other such costs. Please check with us if you need further information.
Can I use the yacht's watersports, toys etc?
Yes as long as the facilities being used do not require a certificate of competency. If they do you can of course use the facilities as long as you have such a certificate.