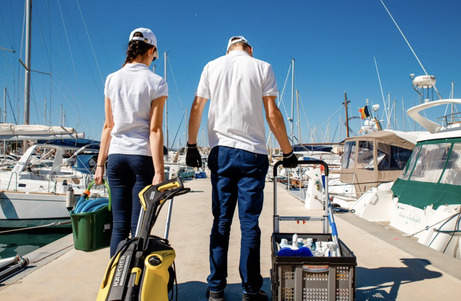 Your boat requires special and continuous attention so that it is always in a perfect and clean condition to prevent external elements from depreciating it. This can avoid possible costly repairs both now and in the future.
Let our Elegant Cleaning team take care of all the stress involved in having your boat always impeccable and ready for when you want to enjoy it.
Our team will always be in charge of keeping your boat in optimal condition using specialist cleaning materials and products that preserve the ship's materials and minimize the environmental impact. We work efficiently, professionally and discreetly at all times.
Order A Boat Cleaning Wash
We offer you our weekly or fortnightly cleaning packages to keep your boat in perfect conditions, avoiding wear and corrosion of its materials. Our team is standing by to make your boat look as good as the day you purchased it!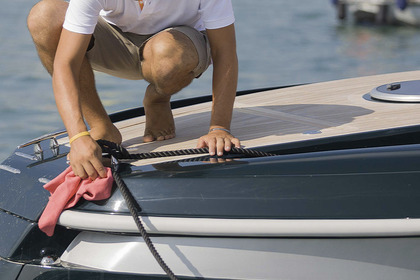 Exterior Yacht Cleaning
We do not use aggressive chemical products that can damage the boat. (In case we have to use them, we will read their instructions well and we will keep the times indicated by the product and use the corresponding PPE strictly). As a priority, ecological or marine detergents will be used.
Cleaning of the deck, the hull, the upper works. We use neutral pH washdown soap, non-aggressive grease remover, bleach, cleaners, magic sponges, metal polishes, marine polishes, helping us with pressurized water and fine, flexible wax brushes that do not scratch surfaces.
If you have to use soap for teak, a specific soap with the appropriate brush will be used. We will clean the boat carefully so as not to scratch or hit it. The mats will have a progressive maintenance with suitable products so that they do not have humidity.
All drawers, lockers and hatches must be kept in order, clean and dry, as well as the boat's scuppers and taking into account at the time of flushing that they are not clogged with dirt or any object. Cleanliness of the fenders to avoid dirtying the hull.
Interior Yacht Cleaning
Inside the boat we must deal with humidity, one of the main problems and the source of much of the dirt, bad odors and deterioration. Thus, it is essential to constantly ventilate the interior and use dehumidifiers that help us reduce the degree of humidity in the environment. It is about preventing it from reaching the electrical parts.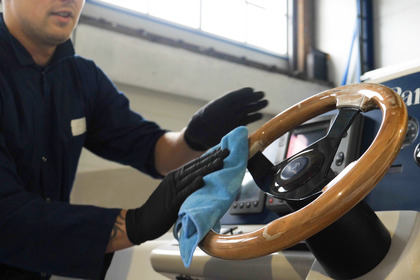 The cleaning of cabins and bathrooms must be carried out as in a home, maintaining order and strict cleanliness, using vacuum cleaners, mops, mops, cloths, rubber bands and other materials.
Although it is important to resort to anti-limescale detergents to remove salt from windows, bathroom screens and where there may be limescale, always considering the times of the products and delicate areas.
Cleaning floors and furniture. Vacuuming and mopping floors. Furniture: We use non-aggressive products for the perfect washing and maintenance of delicate garments such as sofas, curtains. Cleaning the hatches, softening the joints, and removing the salt from the windows and parts of the stainless steel of the porthole.
We will use water with an anti-limescale that we will apply both to the metal and to the glass. For cleaning we will have to use fresh water and mild soap, although in the bathrooms we can use a product to remove dirt and recover the white color of the floors and toilets.
Drying
We will use a bucket with water and vinegar, marine drying cloths, and drying mops. Always keeping the water, cloths, and mops well clean and drained. Changing the water as many times as needed.